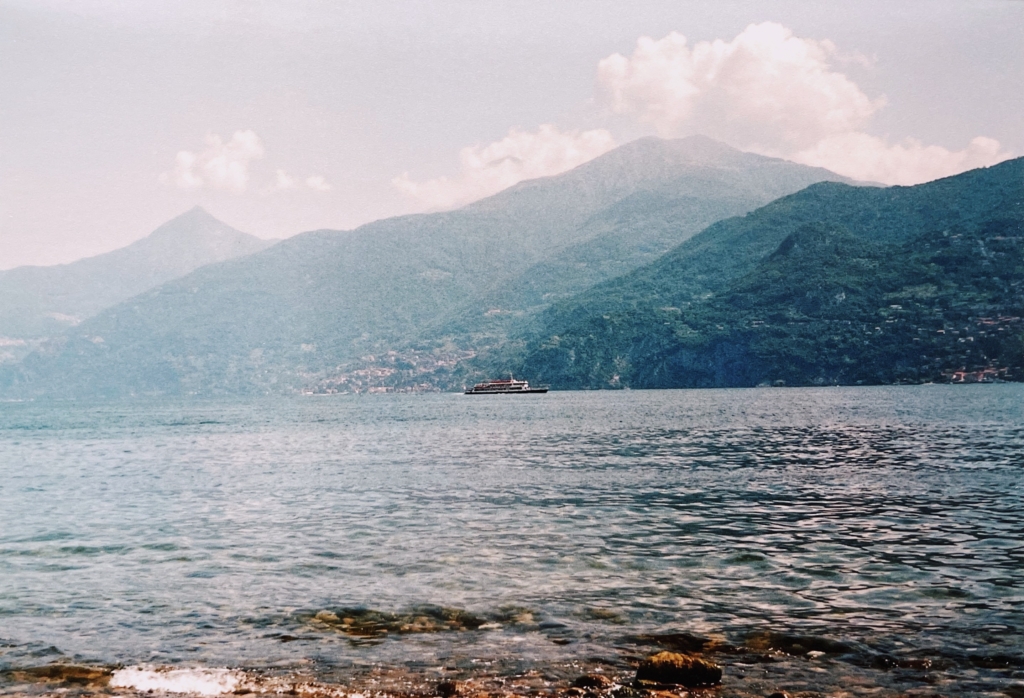 We arrived at our hotel on a Tuesday afternoon, after a long and curvy drive that took us all the way from Lucerne to the Lombardy. There's something special about seeing the Italian Alps meet the crystal clear lake water for the first time; pictures can't quite do it justice. Griante, the area we stayed in, felt relatively quiet and secluded, despite it being prime tourist season, and it was such a nice feeling to know that we had all the time in the world to explore beautiful Lake Como at our own pace for the next few days.
When it comes to scheduling, I like to loosely plan a few activities you can easily shuffle around to fill up your days just the right amount. My bucket list for the next three days looked a little like this:
Alberghetto La Marianna – a cosy, family-run hotel
I immediately fell in love with our hotel, which I had found by pure coincidence on Booking.com. I have simple taste in hotels – I'm not particularly interested in big, fancy, well-oiled machines and I don't care for sleek perfection. Instead, I prefer small, family-run boutique hotels that charm with vintage furniture, mildly outdated but perfectly functional bathroom fixtures, incredible breakfast, and an overall homely, cosy feel. Alberghetto La Marianna ticked all of these boxes and more.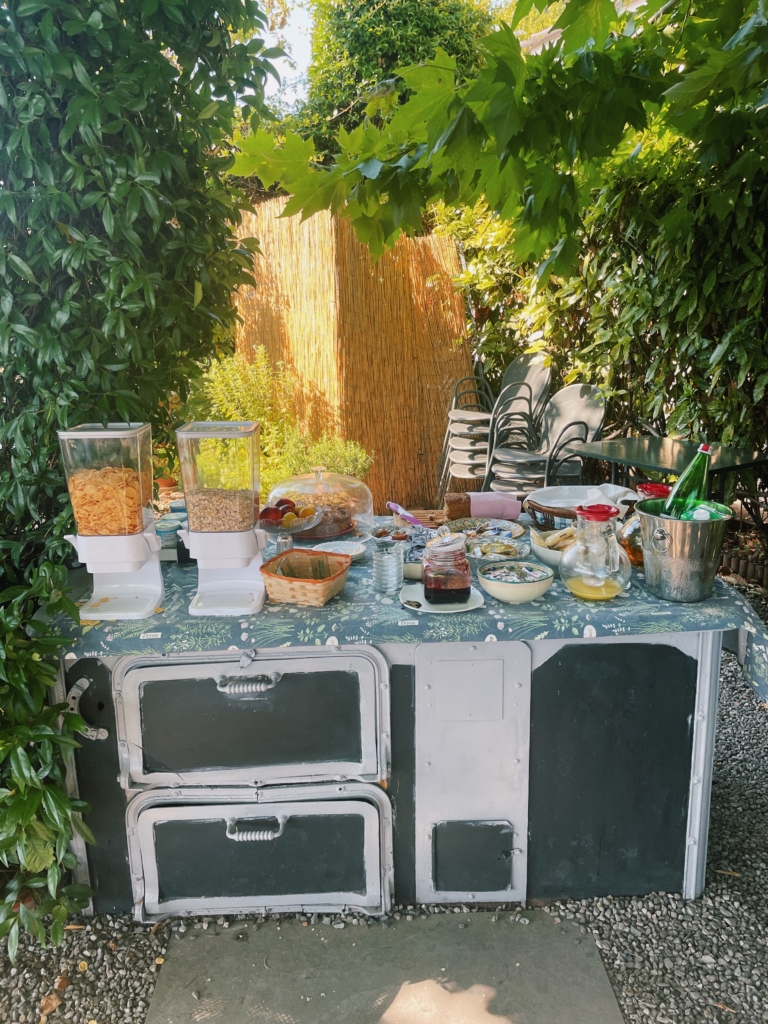 The rooms (eight in total) have character, truly excellent AC, and cute balconies perfect for drying your swimsuit in the afternoon sun and thinking about life. While our balcony technically faced the inner courtyard, it actually narrowly wrapped all the way around the building, so we, too, could sit and enjoy staring at the glistering water.
Waking up to have breakfast with the most dreamy view on the hotel's stone terrace was the perfect way to start the day. The homemade jam and bread are delicious, as are the meat & cheese platters, and you're never made to feel bad asking for a second – or third – cappuccino. The daily cappuccino was by far the easiest bucket list item to tick off! After breakfast, you can even walk down the steps right next to the terrace for an early morning dip if you're in need of some extra help waking up.
Everyone at the hotel was helpful and friendly – you can tell it's a family affair run with lots of love and care. The location was perfect for our purposes. Bellagio and Varenna are just a ferry ride away, and walking to the ferry should take a fellow speedy walker less than ten minutes. Meanwhile, you get to stay in an area that's a little quieter and perfect for swimming, hiking, and other outdoors activities.
The only thing I would note is that the hotel is right in front of an admittedly busy road. You'll find lots of pedestrian crossings, but we were still very cautious every time we crossed the road, watching out for unnecessarily fast driving. If you're a light sleeper, you might also want to opt for a mountain view room rather than the lake view.
Parking is made super easy on a public parking lot a mere minute away from the hotel. We mostly walked or took the ferry, so we didn't end up needing our car at all after we arrived, and James was delighted to get a little break from driving.
I'm so happy I managed to snag a room at La Marianna (the last one available when I booked, by the way) and I've been telling everyone about this little gem. If you're heading to Lake Como and want to avoid the crowds, Alberghetto La Marianna won't let you down; I promise.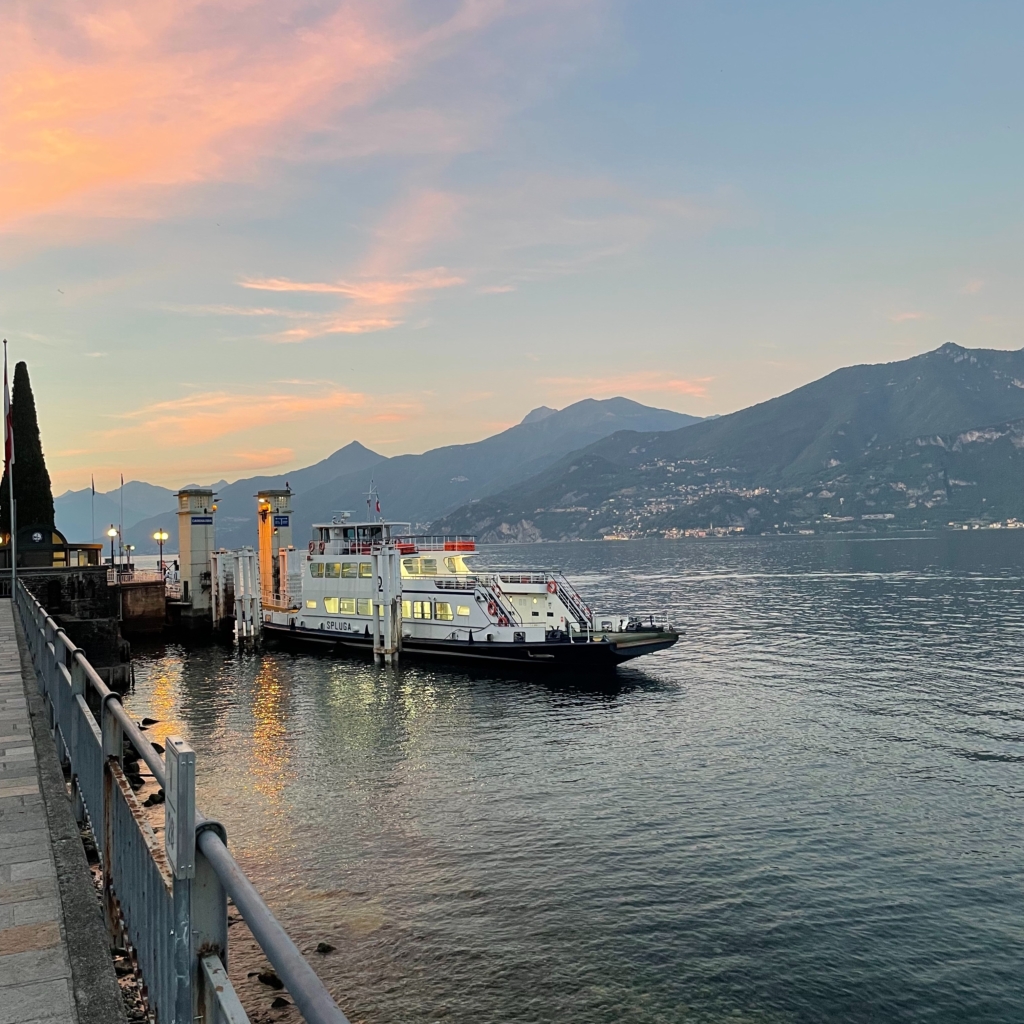 Later that evening, after an accidentally forbidden swim in front of a private villa (it happens to the best of us), we walked about 15 minutes to Ristorante Belle Isole in Cadenabbia, where we had a tasty dinner in their garden (great pasta – especially the melt-in-your-mouth Ravioli) and saw the most spectacular, almost-full moon rise and glow over Bellagio.
A beach, a deserted tennis court, and a hike with a view
The next morning, after breakfast, we decided to rent a boat to explore the lake on our own terms. When we arrived at Planet Nautical in Cadenabbia, all boats for the morning and afternoon were already booked, so reserving a slot in advance is recommended if you're not super flexible with your schedule.
Luckily, we didn't mind a change of plans, so we reserved a boat for the next morning and decided to hang out at a public beach just a few minutes walk from the hotel instead. You can rent loungers, umbrellas, and water sports equipment at the local beach bar, AL PÙUNT, at very reasonable prices. They have snacks and drinks, and the people/dog watching is excellent, too. I read in the sun for a little bit (I've been working my way through "Writing Down the Bones" and loving it – this blog post might only exist thanks to the book) while James went stand-up paddle boarding for an hour.
In case you weren't already aware of this, the beaches at Lake Como are the kind of stone beaches that seriously challenge your balance as you stumble (or crawl) into the water, so if you happen to have some water booties at hand, definitely make sure to pack them. Once you're in, the water is a pleasure, so like most things in life, the effort is worth it. I enjoyed seeing all the different techniques people were employing to enter the lake – the graceful stork, the determined bear crawl, the one in denial (pretend the stones are soft sand, then fall). If you're curious, I adopted the hips-up crab crawl approach to getting in and out of the water, and it served me pretty well.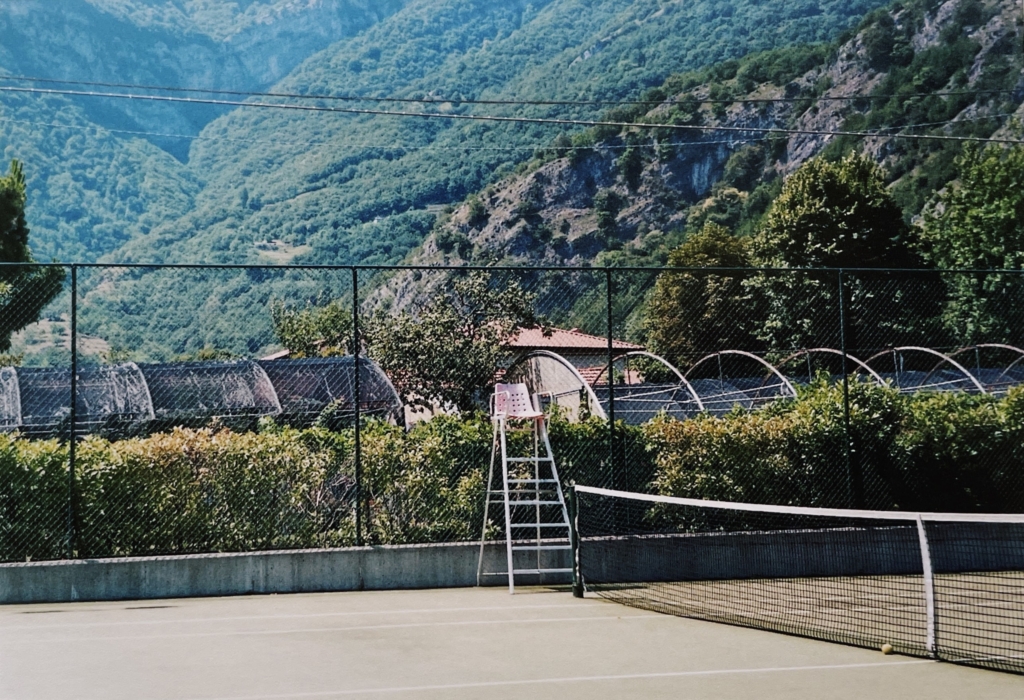 In the afternoon, we went on a hike up to Hotel Rusall, which was supposed to have beautiful views and very tasty lunch. A word of advice – if you're going on a 30 minute steep uphill hike to grab food at a hotel with a view, you should probably call the hotel in advance to check they are actually open for lunch, despite what Google Maps might claim.
Unfortunately, Hotel Rusall was completely deserted when we arrived at 1.50pm on a Wednesday afternoon. This did mean that we were able to briefly sneak onto the fake-grass tennis court, and get a beautiful picture from the empty gardens (check out Bellagio on the other side of the lake!).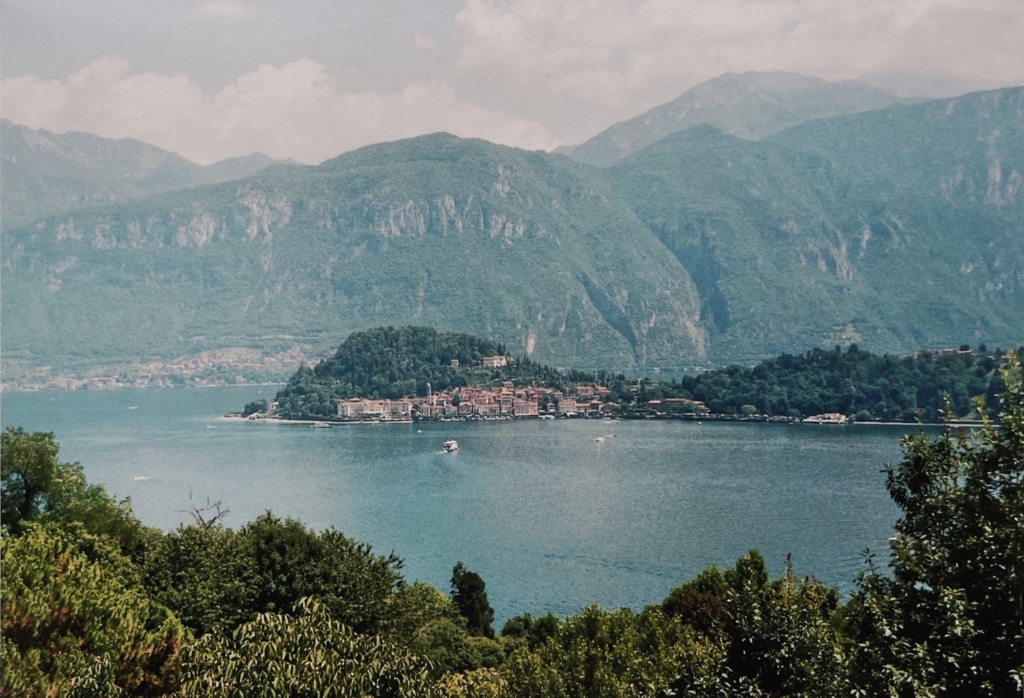 But with 2pm being the usual cut-off for lunch, our stomachs were starting to rumble and we were getting a little nervous. Luckily, Google Maps came to our rescue this time, and we walked over to La Fagurida. This cosy little family-run restaurant happened to be just around the corner and magically seemed to have the most beautiful table on their balcony waiting for us – like they knew we were coming. Such a lovely moment (one of my favourites on this trip)…and excellent bruschetta!
On our hike up, we had seen signs for Chiesa di San Martino. I had actually spotted this intriguing white church from the beach earlier, and had been determined to find out how to get there. It's one of those places that looks utterly impossible to reach from a distance, but once you're on the actual hiking path, it's not quite as steep and dangerous and secluded as presumed. Nourished, content, and looking for a little bit of a challenge, we decided to give it a try.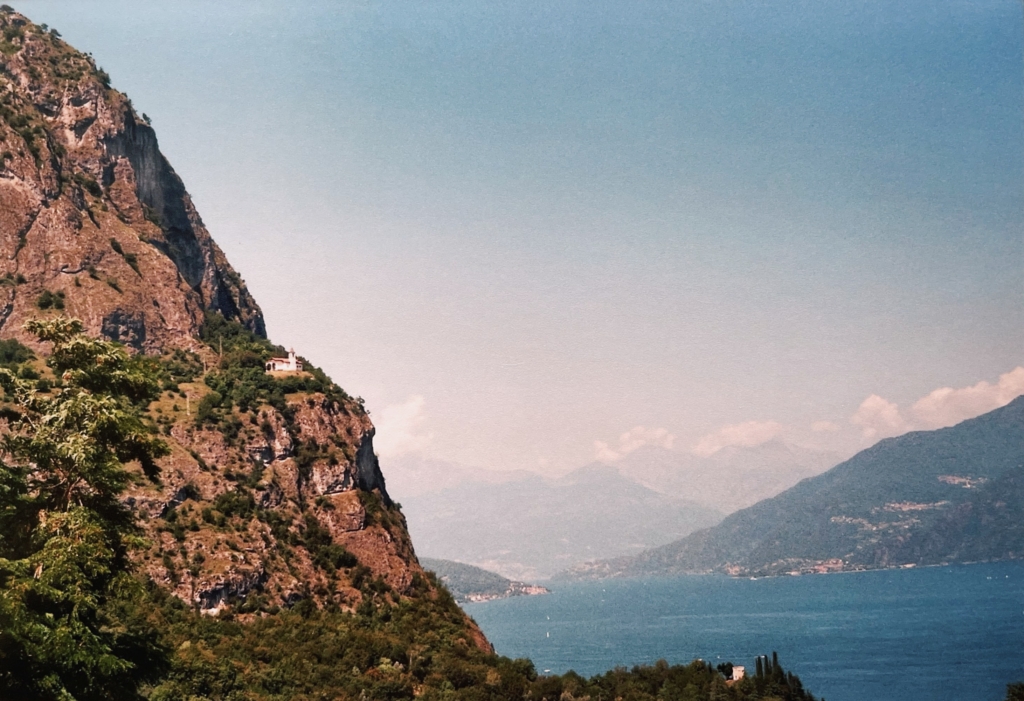 It was worth the effort. Chiesa di San Martino – only open two days a year – had the most excellent views to effort ratio. Since we were already a third of the way up the hill, we ended up on the path less taken, which led us through forests, fields of wildflowers, and up some clunkier and less established hiking paths. We only bumped into one other person on our entire hike, and found a little viewing spot behind the church with a phenomenal view of the lake to rest for a while before making our way back.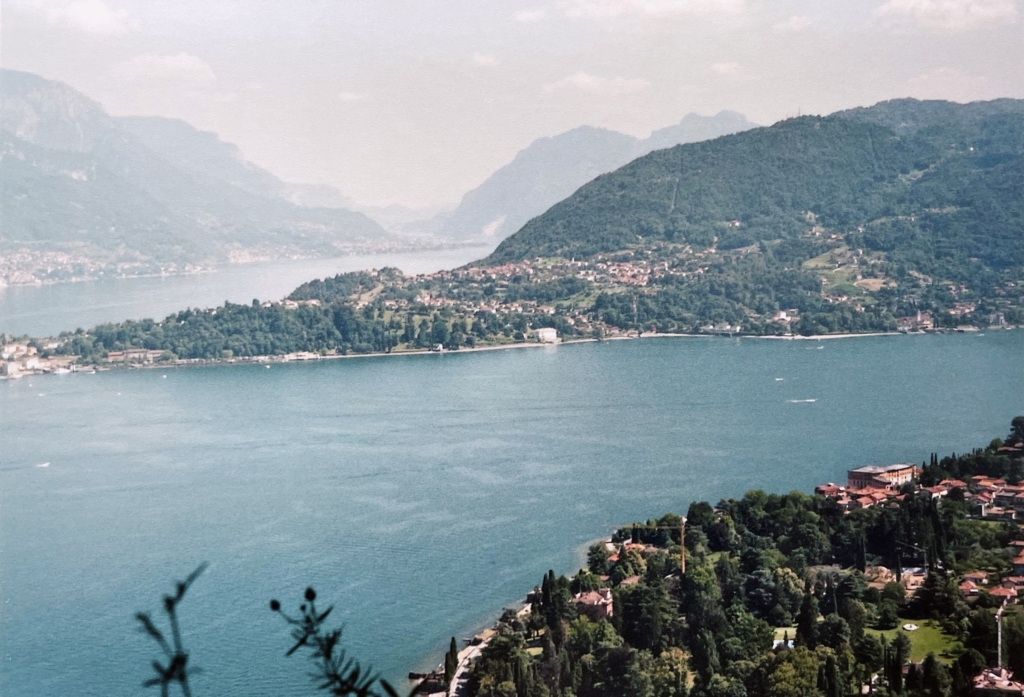 On the way down, we took the official pilgrimage path to mix things up, walking down well-established, cobble-stoned steps. We passed several small and one or two bigger chapels, all decorated with mosaics. Looking back up at the church from the valley, I felt a great sense of accomplishment.
A charming dinner date in Bellagio
In the evening, we took the ferry to Bellagio for dinner at Trattoria San Giacomo, a recommendation of La Marianna's very own Giacomo (no affiliation, he claimed). He warned us that the restaurant can get busy but promised that it's a very fast turnaround. We speed-walked to the 6.35pm ferry and managed to get to San Giacomo just before it opened. Perfect timing – we narrowly missed out on the outdoors seating, but were able to put our name on the list for the first slot at a table right by the huge terrace windows.
The restaurant has a great system in place for the many people waiting for their turn; you grab a cushion, sit down on the stone steps outside, and get yourself a generous glass of wine from the wine store just opposite the restaurant to drink while you wait and people watch. We didn't have to wait very long, and once again had wonderful pasta and delicious fish. I also had the world's biggest and strongest Aperol Spritz. I love the Italian definition of "very fast turnaround" – we ended up spending a leisurely one and a half hours here, and that was without dessert.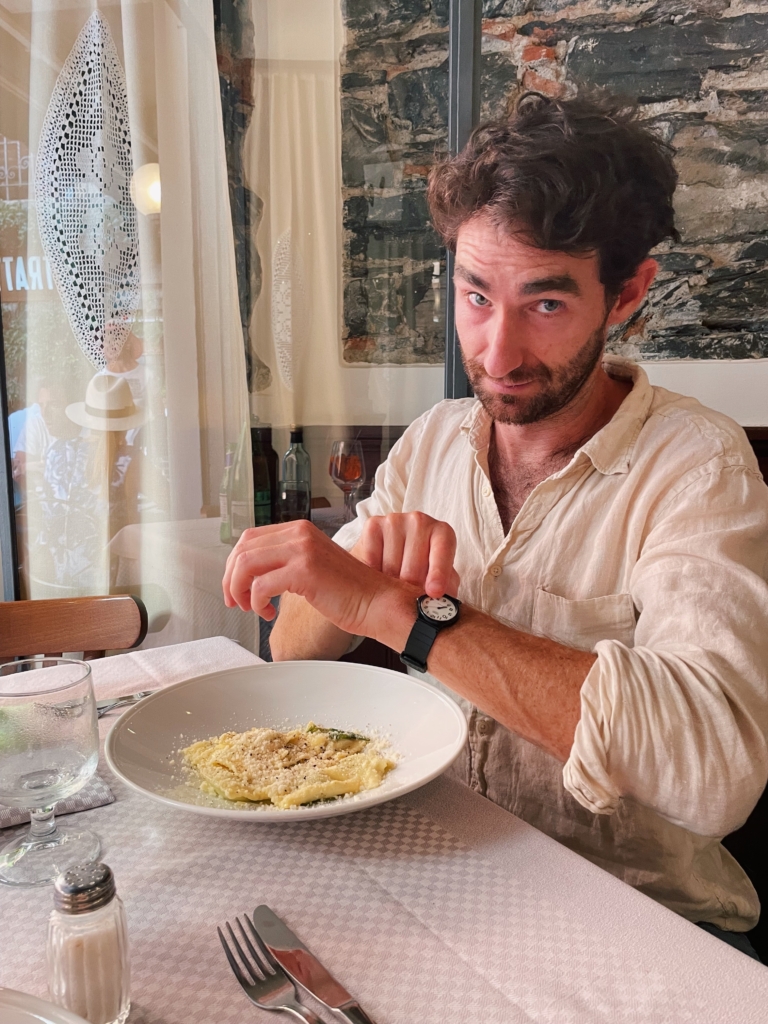 After dinner, we walked around beautiful Bellagio, got bitten by mosquitoes, and then headed back to the ferry. While we waited for the boat to arrive, James was skipping stones (and attracting a little bit of an audience – no big deal), which the local swan gang mistook for a potential feeding opportunity and an excuse to approach him in formation. It was amusing, albeit mildly threatening in the particular way that only big birds can be.
Exploring the lake by boat
On our second full day in Lake Como, we showed up a little early to our boat reservation, excited to explore the area. Our first stop was Nesso to see the famous waterfall, which was beautiful even though it was a cloudy morning. We then we took a closer look at the usual suspects such as Villa del Balbianello and Villa La Cassinella ("Alexa, play the Succession theme song!") before heading to Bellagio, Varenna, and Menaggio.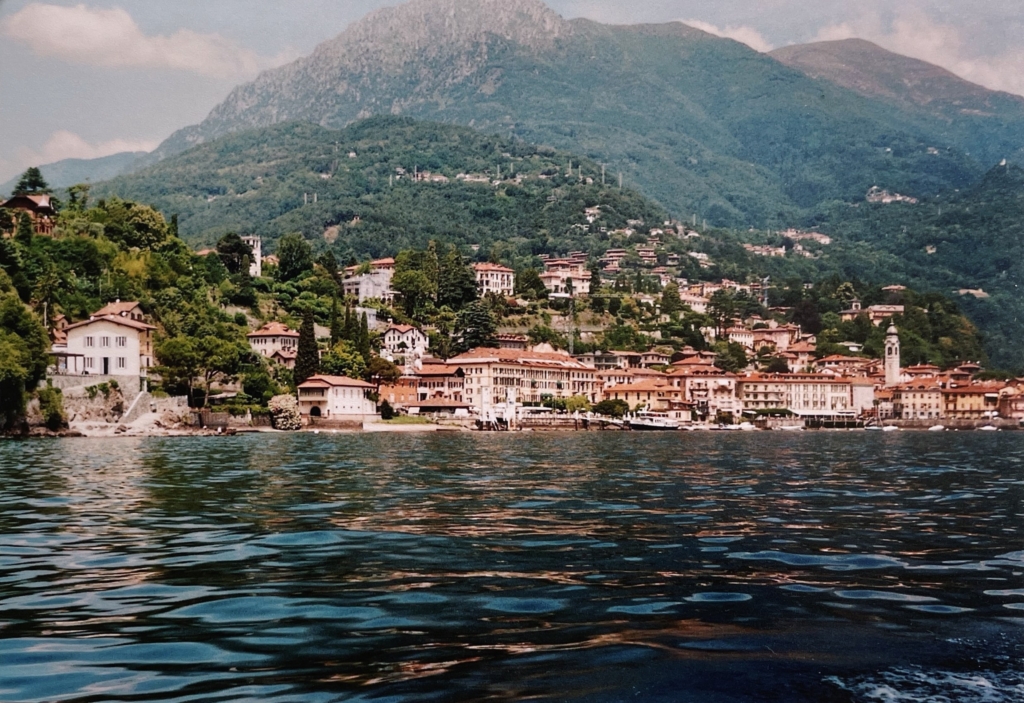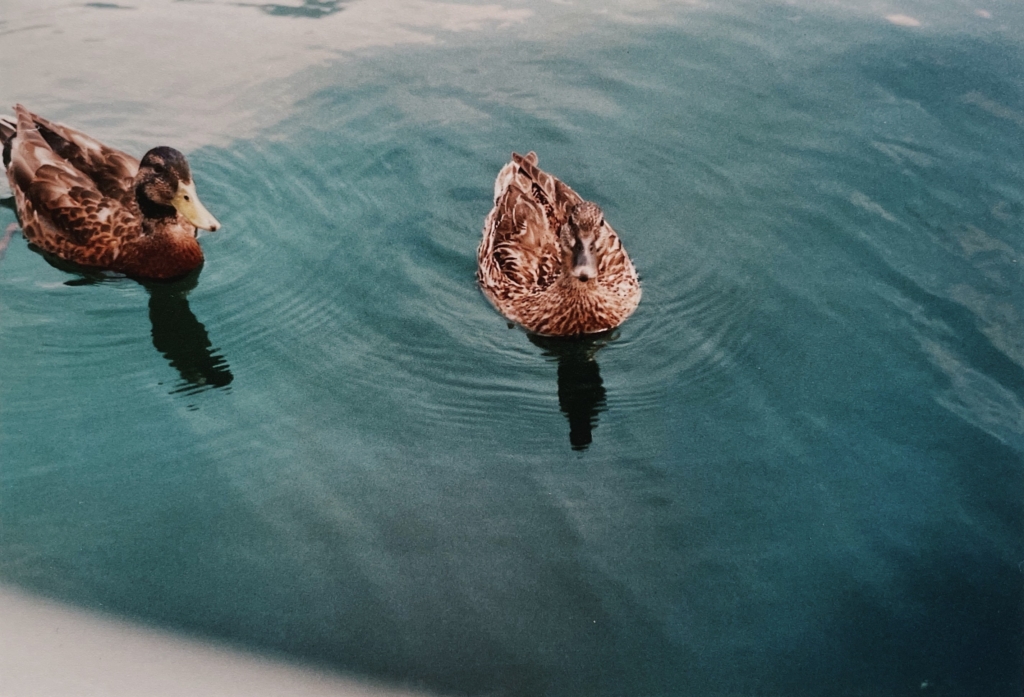 The water is so still in some spots, you can even hop in the water and swim a little. Personally, I'm physically cautious and don't trust big bodies of water but you absolutely could if you have a healthier relationship with the elements. James, of course, does have a healthy relationship with the elements. He even tried to climb on a random rock by the shore to jump in the water from even higher up; an endeavor that he (fortunately for my nerves) abandoned halfway. James returned to the boat with a small cut on his foot, humbled but not defeated.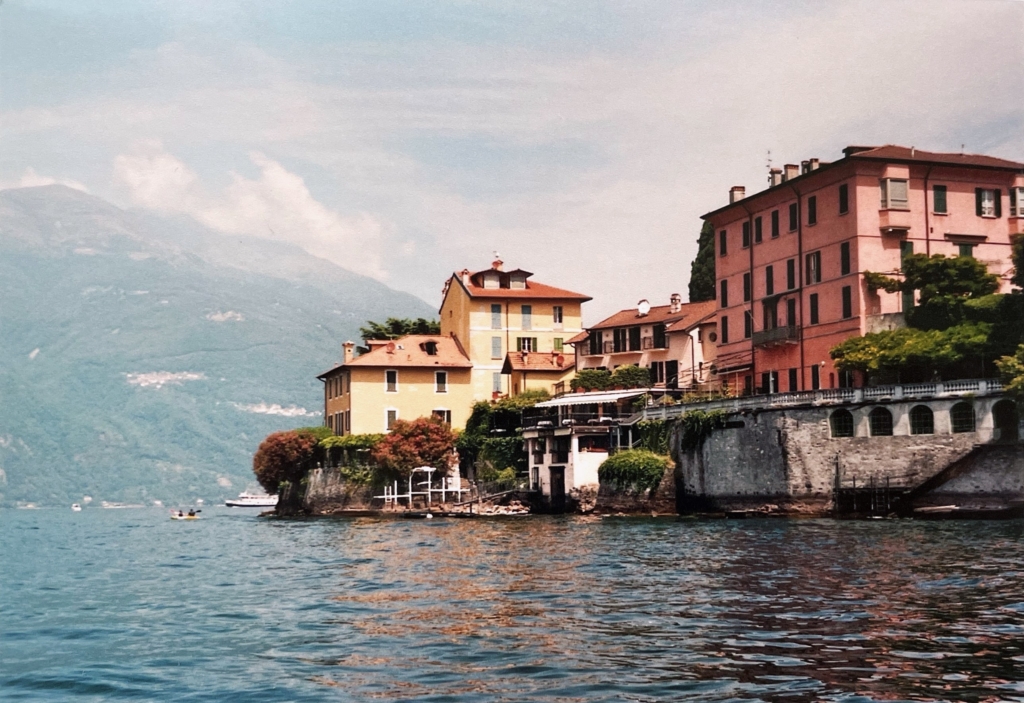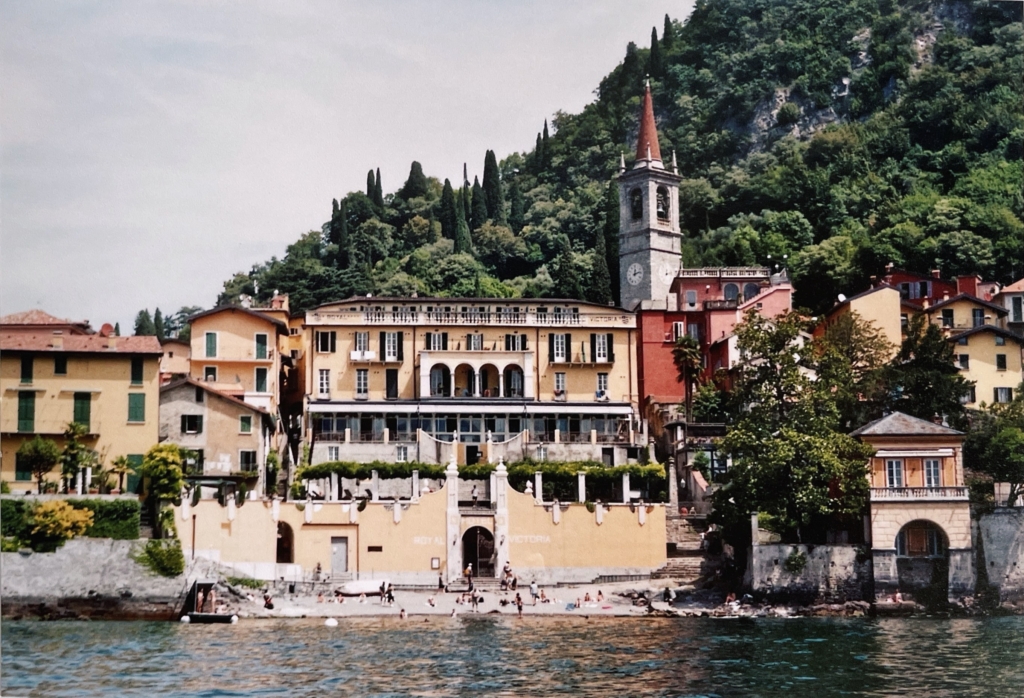 After our swim stop, we passed Varenna, which looked absolutely lovely. I particularly enjoyed the look of Hotel Royal Victoria – their beach looked fun and I bet the rooms have the most amazing view.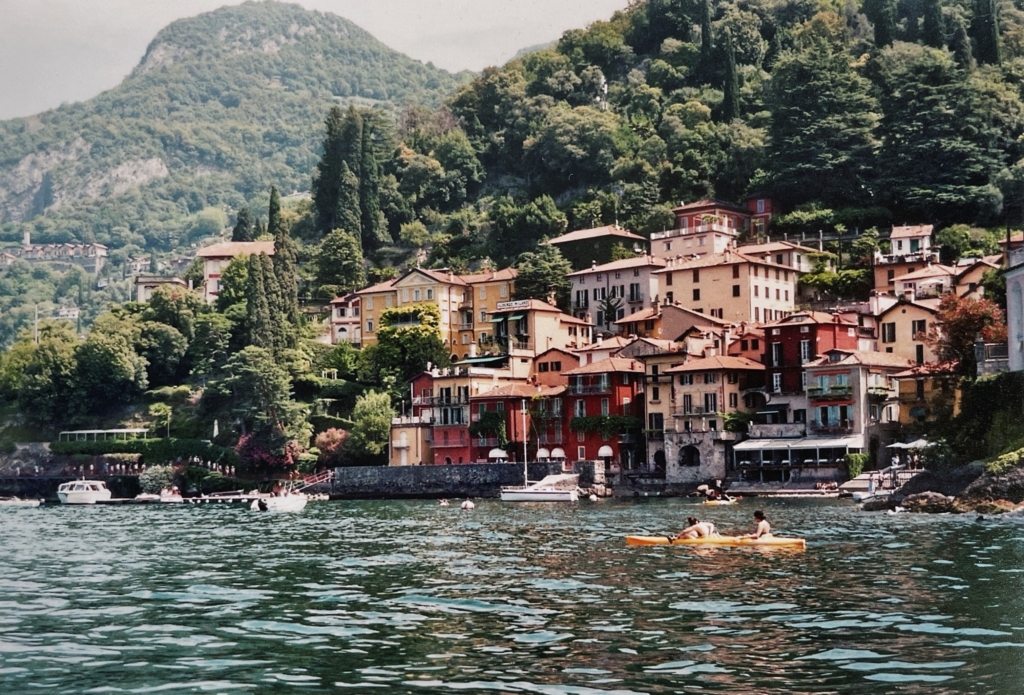 My one regret of this trip is that we only saw Varenna from the boat and didn't spend a leisurely afternoon in town. The direct ferry from Cadenabbia to Varenna only ran in the early morning and the late evening, and we decided against doing the Cadenabbia to Varenna route via a stopover in Bellagio on our second afternoon since it was very hot and we were exhausted. Next time, I'd make sure to spend at least a few hours wandering the paths by the lake and eating ice cream.
Villa Carlotta
After we returned our boat and took a little break at the hotel to reapply sunscreen and relax for an hour, we walked up the hill into town to find some food. We got lucky – the local supermarket was just about to open. After a charming exchange with the shop owner, who did not speak any English, we walked away with the most delicious sliced salami, some cheese, bread, and ridiculously red and juicy strawberries. I recommend doing this at least once – it felt nice and peaceful sitting by the lake and eating our DIY lunch.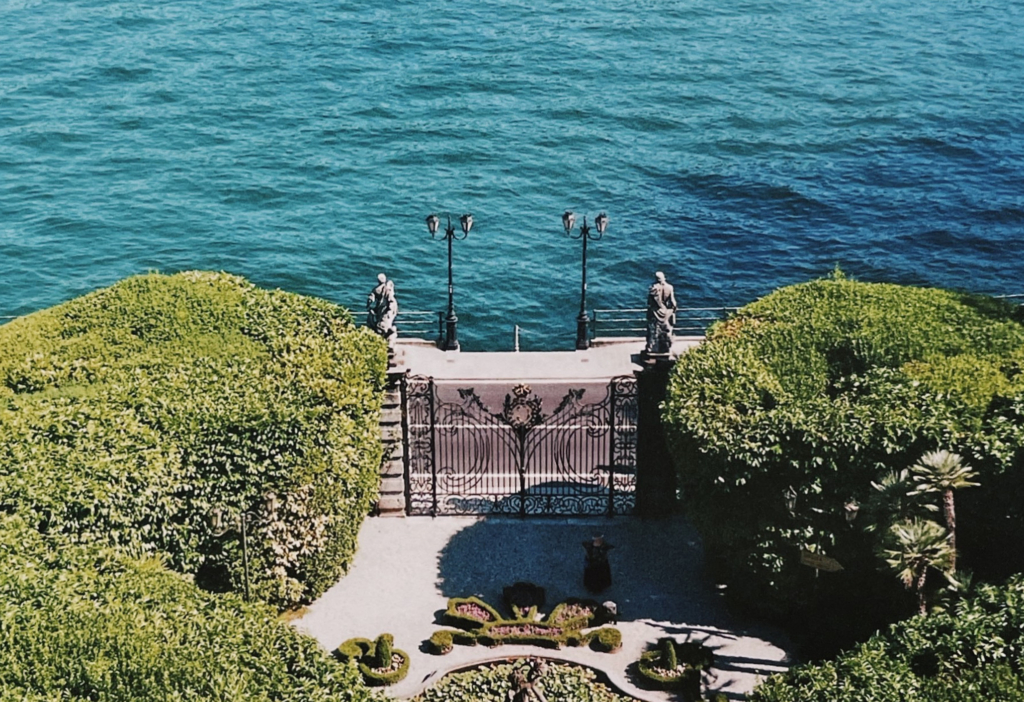 Having successfully averted the hanger, we continued our afternoon walk to Villa Carlotta, a famous seaside villa with expansive gardens in walking distance from our hotel.
Most of the pictures in this post are taken with my Zorki 4, which I have inherited from my grandfather. I usually get a little nervous just taking pictures with my film camera. It's a fully manual rangefinder camera and not every shot does the scenery justice – sometimes, pictures come out blurry or overexposed. So I usually take a back-up iPhone picture, scared of missing out on capturing a memory.
On this occasion, my phone had died so I had no choice but to leave it at home to charge and only take my camera to Villa Carlotta. Getting these pictures back was such a pleasant surprise. The 35mm film managed to capture the atmosphere and opulence of the location in a way that my iPhone would never have been able to; a reminder to myself to trust the process and leave my phone in my bag (or at home) more often.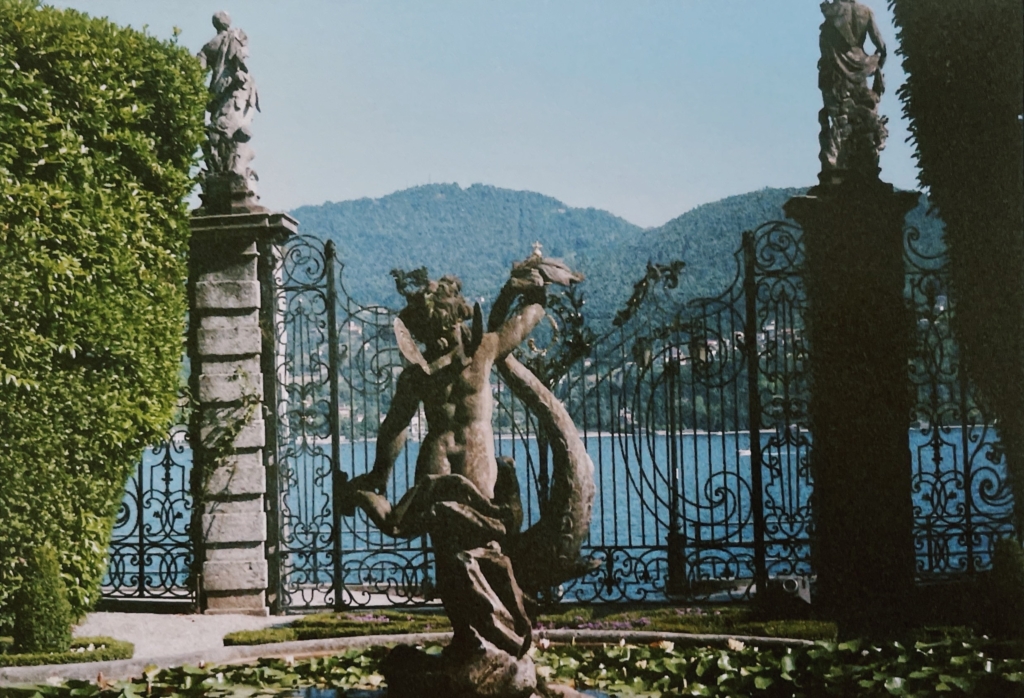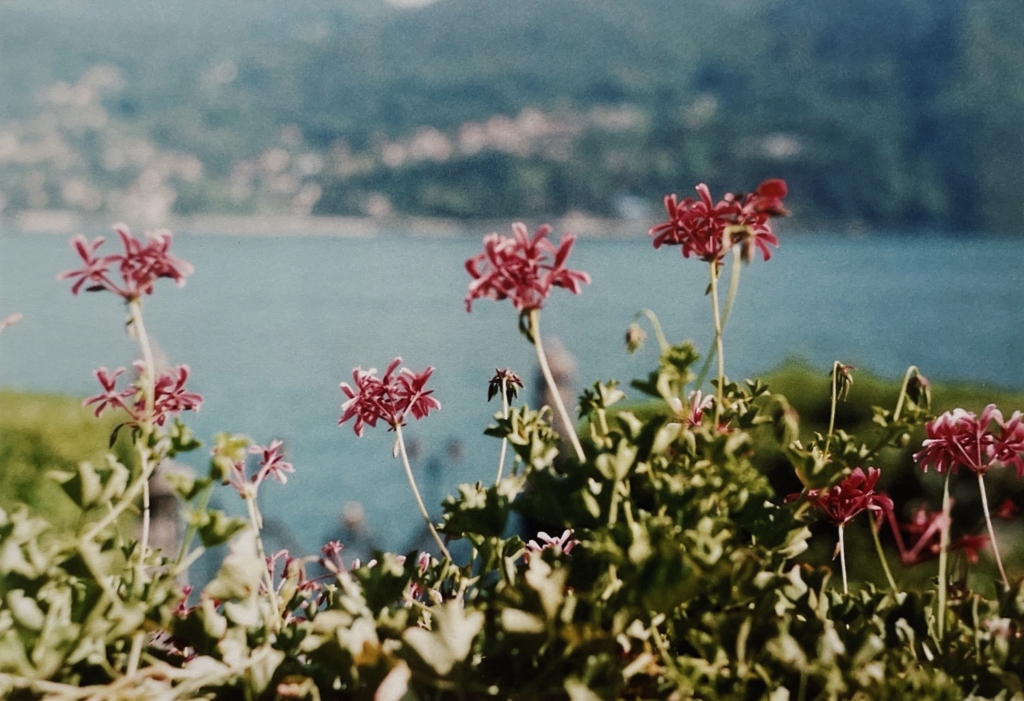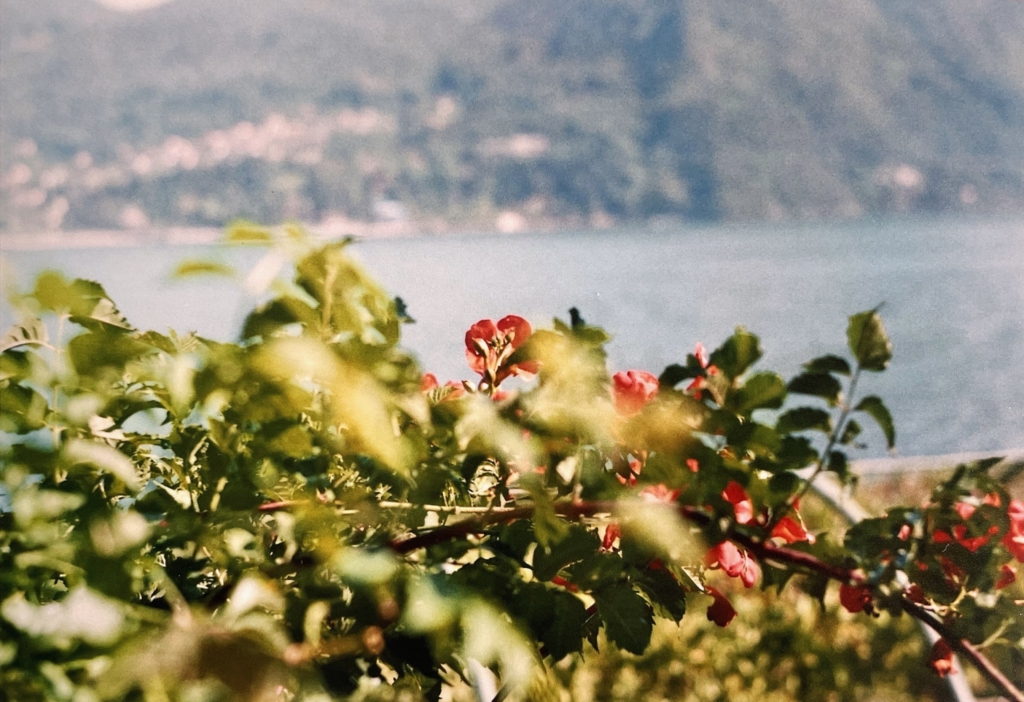 A non-democratic menu and la dolce vita taken to extremes
On our last evening, we made a reservation at the hotel restaurant, which had excellent reviews. There's a different "non-democratic" fixed menu every day. You get to choose how many courses you have and what you want to drink, but that's about it. We went on a Thursday, which meant we signed up for the Garden Menu, a strategy to make a Vegetarian menu sound slightly more appealing to omnitarians, as the chef explained to us. The atmosphere was lovely, and it's a very intimate setting with only six or seven tables and a chef who really cares about your experience and is excited to share more details about the restaurant and hotel they have been running for years.
The food was fresh and delicious, as expected, but James and I both regretted going for the full menu (first course, second course, main course PLUS dessert) about two hours in, when we felt very full and pretty tired and were still working our way through the main course. Spending almost three hours at dinner can be a little bit of a challenge if you had a long day! Knowing what I do now, I would absolutely recommend you go to La Marianna for dinner if you're in the area, but would advise you to start with maybe two or three courses, and then play it by ear if you want to add more.
My favourite moment was overhearing the couple next to us asking Giacomo to tell something to "his colleague", the chef, to which Giacomo answered "I wish he was my colleague…he's my dad!". That little interaction summed up the character of La Marianna perfectly, which feels like a great note to end this travel diary on.
Some final thoughts
Lake Como is a seriously perfect holiday destination and I'm so glad we chose to go. I often get overwhelmed by all the beautiful places I would like to see in this lifetime, so to feel even a mild desire to return to a place means it was really quite something. In the case of Lake Como, I'd love to be back one day, maybe on a little self-imposed writing or painting retreat. In the meantime, if you're reading this and currently planning a trip – I hope you have a wonderful time in what must be one of the most beautiful places on earth.