My first day in Singapore felt odd. After dragging my two suitcases around town (and through an entire shopping mall – after all, this is Singapore we're talking about), I temporarily moved into a sparsely furnished Airbnb room with sliding walls in a fancy condo at the heart of the CBD, Singapore's business district. Upon arriving, my host had warned me that AirBnb was, in fact, not exactly encouraged in the building, and equipped me with an emergency plan should anyone ever question my presence – very reassuring. Slightly on edge and fairly exhausted after my first ever long haul flight, I sat on the sofa bed and sipped on a berry bubble tea I had picked up downstairs (my first and last; apologies to any bubble tea fans), not quite knowing what to do with myself next.
For the first time in a long time, I felt kind of…lonely. While my entire contact list was snoozing peacefully back in Europe, I wondered what the heck I had gotten myself into. By most standards, my previous life in London had been going pretty well.
So what's a girl to do when you think you might have just made a colossal mistake?
Naturally, you get some food first. I wandered to the closest Hawker center, Lau Pa Sat – not a bad first culinary experience – where I had chicken rice while (in a surreal turn of events) Oktoberfest hits were blasting through the loudspeakers. Afterward, I went to bed inappropriately early, determined to sleep off any sneaking doubts.
The next day, I met up with two friends who had moved to this part of the world at the same time as myself. We drank the first of many Iced Kopis together, wandered around Chinatown, and had a lovely afternoon that turned into an even lovelier evening. Hours later, the loneliness I had felt so acutely the day before had dissipated into thin air. I knew I was going to be just fine.
But I do still remember what I felt like on that first day. I rarely feel lonely when I'm alone, and so it took me a few seconds to make sense of that weirdly empty sensation just below my chest. I guess moving to a new continent on your own tends to come with a free pass to a little loneliness, no matter how much you cherish your own company.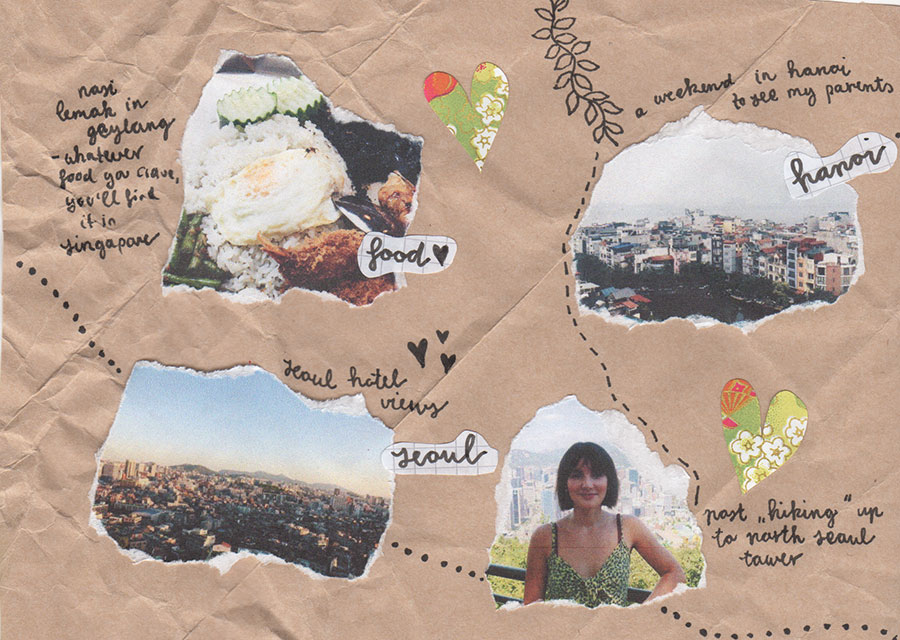 Spoiler alert: I don't live in Singapore anymore. Currently, I'm back in Europe for a short while after wrapping up my Singaporean year (and my many vintage finds, courtesy of the 10/10 vintage shopping scenes in Seoul and Tokyo) in approximately twenty vacuum-sealed compression bags (Daiso was a lifesaver) and leaving with a heavy heart and two even heavier suitcases.
Of course, I was sad to move on, but surely I wasn't 64kg of overweight luggage level sad?
I can't remember what exactly I was expecting a year ago when I boarded a FinnAir flight to my future home. Thinking back, I believe I moved not really knowing what might happen, apart from the fact that I definitely wouldn't be able to purchase chewing gum anymore – I've never been much of a chewing gum person anyways, so this didn't pose a huge problem to me. I do know that I ended up loving my time in South-East Asia so much more than I originally thought I would. Don't get me wrong, I wasn't worried I wouldn't have a good year – I just didn't expect it to be quite as lovely as it was.
Singapore is not necessarily a tourist magnet in itself; it's more of a place that people tend to pass through on their way to somewhere with less rules ("no durian on public transport" and "no sunglasses at night – don't be COOL" are some of my personal favourites) and more natural beaches. It's presumably the place to be in your late thirties – if you're moving to Asia in your twenties, go to Hong Kong instead, they say, you'll have WAY more fun there.
Despite these warnings, I absolutely loved calling Singapore my home for a year. I felt pretty happy, and healthy (turns out, the heat is good for my body and mind) – my daily routine was perfect if I do say so myself, from commuting on autopilot to waking up a few minutes ahead of my 5:36 am alarm. I grabbed lunch at the same place most days, moved my body almost every day (I'm an F45 convert now), and spent quite a bit of time learning new things and figuring out what it is that I love and want to do. This might not sound crazy exciting at first glance, but it sure did the job for me.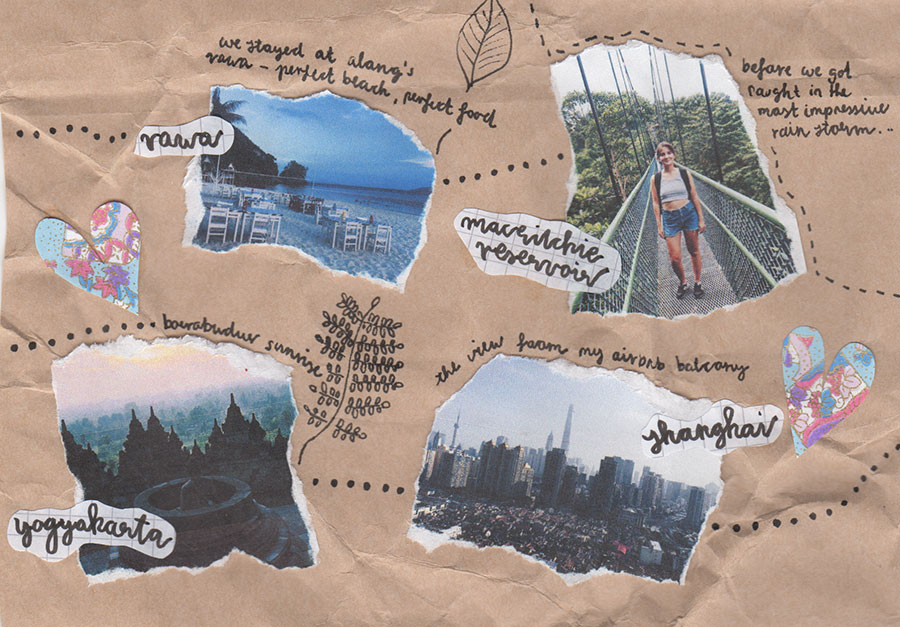 My move to Singapore was not only my first time in Singapore but my first time in Asia, too. I now get slightly embarrassed remembering my first surprise date with a lizard; while the little guy roamed the walls of my second Airbnb, I hid under the covers and frantically googled whether lizards are dangerous (obviously not) and how likely they are to jump on you while you're sleeping (not very likely either). Safe to say, I do not panic like that anymore, especially since I found out that lizards munch on insects for breakfast – I consider them quiet and creepy but generally friendly allies instead. I also believe myself to be a bit of a lizard whisperer by now, having tricked and set free several little beasts over the course of the year. And I have to admit – hearing my flatmate loudly gasp in surprise at finding lizards in unexpected places never quite got old…
It did take us a little while until we were able to finally move into our flat, so I spent the first three weeks in three different rooms, getting used to what my life in Singapore might look like but not really settling into the new city yet. The initial wait was worth it – our flat was a dream come true, and returning home in the evenings after work felt like a treat until the very end. This was important because home is important to me, however temporary that home might be. I could never live out of a suitcase or a backpack for longer than a few weeks at a time; feeling cosy and happy in my own space is a must for me.
Yet, as much as I need my own space, I still fancy an element of novelty in my life, and for now, I don't like getting too comfortable in one place. I'm aware I'm incredibly lucky; my current job not only enables but actively encourages me to start fresh every 12 months, changing job, city, country, and even continent if I choose to.
I try to take full advantage of that. You get to know a place and its people and culture in a completely different way when you decide to settle down for a little while compared to popping by for a short visit. I've been lucky, too – so far, I've found it comparatively easy to pack up my life and embark on new adventures. Leaving was always sad, but once I left, it usually felt right.
But of course you never really start from scratch. The more you move, the more people, places, and memories you're carrying with you – your very own emotional baggage, I guess. I used to be most aware of this between the hours of 8 am and 2 pm, when even my most committed night owl friends in Europe had gone to sleep and my connection home broke off temporarily.
That's when I would find myself missing all the places I've called home over the years. Not just the type of home that's a home by virtue of my family being there, but also the places I lived back in the UK, and the people that turned those places into homes. I would miss the kind of fleeting moments that you only ever truly value when they're over – like sitting in lectures in Edinburgh and meeting future lifelong (well – fingers crossed…) friends for the very first time. Listening to Serial (season 1, of course – we're not savages) in our dressing gowns in my friend and flatmate's Kima's bed in third year of university. Eating my favourite pesto bacon pasta (honestly, it was something else) with my friend Zack in Balliol Dining Hall in Oxford and catching up about our days. The very first snow in Scotland, forever captured with my grandfather's Russian analogue Zorki camera that might be my most valuable material possession (and if you know my collection of vintage jewellery, you know this means a lot). Waking up and being so cold I could see my breath in my Marchmont bedroom that was mysteriously always about five degrees colder than the rest of the flat…
Okay, wait, I don't actually miss that last part. I would probably pick turning the AC on and off approximately every two hours during a particularly hot night (which happened an awful lot during my last few months in Singapore) over being colder inside than outside any day. But you get the idea – I was nostalgic. A lot. But that didn't mean I wasn't enjoying myself back in Singapore; in fact, the opposite might have been true.
Critics often nonchalantly claim that the best thing about Singapore is that you can flee the city-state so quickly and have a great time somewhere else in the region. I don't think that's fair at all. Living in Singapore was a pleasure, and an awful lot of that is down to Singaporeans themselves.
People in Singapore aren't the type to shower you with meaningless niceties at first sight, and they can be pretty blunt at times. But don't let that fool you – they are incredibly lovely, helpful and hilarious once you get to know them (or just start to cross paths on a regular basis – that works, too). I might be biased, but I'm convinced that Singaporeans are also some of the funniest people on this planet. I was blessed with truly amazing colleagues and friends who not only made me smile on the regular but were some of the kindest and most generous people I've ever met – that's a winning mix, I'm telling you. There's a crucial difference between niceness and kindness, and I'd choose the latter any day – it also makes the occasional out-of-the-blue compliment from strangers so much more heartfelt.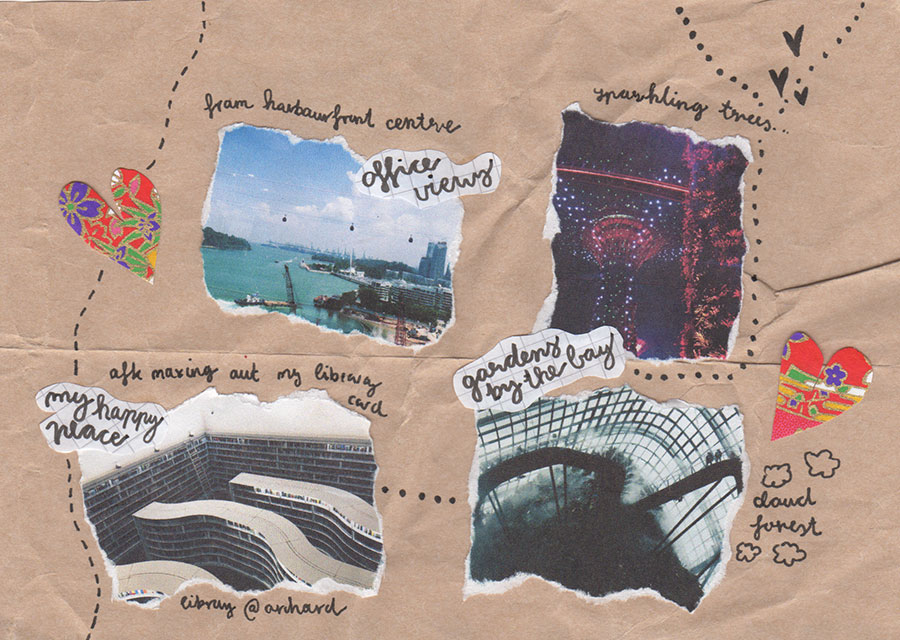 It also helps that people in Singapore are mad about food. Our office used to be basically dead between midday and 2 pm – Singaporeans take lunchtime very seriously, and food plays a central role in Singaporean culture. Hawker centers with their often family-run stalls sell any Asian dish you might find yourself craving. Eating out is affordable, fresh, and very tasty – though not always the healthiest, as I had to admit to myself after an initial four months of eating fried foods on the regular.
But the blend of cultures goes way beyond just food. Singlish, for example, is another Singapore essential – even I found myself occasionally responding to yes/no questions with a brusque "can" or "cannot" respectively towards the end of the year. I'm planning on keeping that habit, by the way.
Despite these traditional influences, Singapore is hyper-modern. Compared to other big cities, stuff just tends to work. Okay, there might have been that one time when a software update gone wrong led to a crash of the self-driving trains, but let's not talk about that…
Naturally, Singaporeans are still the first to jump at any opportunity to complain about slow public transport – they've clearly never had to endure the logistic nightmare that is the District line in London (it's still my favourite tube line, but only because I clearly love to suffer in exchange for warmer lighting and wider carriages).
Coming from abroad, however, you do appreciate the smooth and efficient infrastructure and bureaucracy. Or is that just my German upbringing? Either way, my employment pass was processed within two weeks, opening a bank account didn't even take ten minutes, walking home after midnight was never a problem – you always feel safe in Singapore – and lost credit cards tend to find their way back to you under mysterious circumstances (though I haven't been able to test this one out myself – a clear missed opportunity).
In January, we had the allegedly lowest temperatures in centuries – at 21 degrees, everyone in Singapore got their #sweaterweather on and complained about the cold. I was freezing, too! When you work in an ice-cold office all day, you rely on the heat to thaw your frozen limbs. I'm not exaggerating – once I opened my backpack on my way home, and a surprise gush of ice-cold office air escaped.
As much as I hate cold AC air, I do love summer, and as a big thunderstorm fan, I cherished every single tropical downpour. Only the crazy humidity is not ideal if you like your morning make-up ritual – my face would usually evaporate about ten minutes into my journey to work, so that was mostly a waste of time. I also gave up on my hair halfway through the year and cut it into a short bob. Back in drier lands, I am now amazed by how smooth my hair tends to look, so a year in Singapore has definitely put things into perspective – I will never again complain about bad hair days.
Of course, Singapore is not without its problems, some of which are considerably more serious than melting foundation and frizzing hair. As wealthy and developed as the country is, a solid social safety net, for one, is still a serious work in progress. Living in the expat bubble, it's easy to forget that not everyone leads a cushy, comfortable life and many people are struggling with poverty, especially at old age. My life in Singapore was without any doubt lovely – but it was also pretty damn privileged.
Speaking of privilege – while I think there's plenty of reasons to love Singapore beyond its excellent position as Asia's premier transport hub (with a dreamy airport to match that title – Changi, I love you), it's still pretty incredible that the rest of South-East Asia is only a brief flight away and the rest of Asia no longer out of reach either. A few years ago, I wouldn't have dared to dream that I would visit Japan (my favourite trip), Bali and Yogyakarta in Indonesia, Hanoi in Vietnam, Malaysia (well, Rawa and Langkawi), Shanghai, and Seoul all within a short year. I missed out on Bangkok and Hong Kong though – I'm telling myself that I'm saving these for a later trip.
Last year I was talking to my friend Jasmin about the challenge of making new close friends as an adult, and how lucky I've been so far. In both Oxford and London, I was able to essentially just slide into the most beautiful little friendship groups, thanks to my close-knit Masters cohort and my job respectively. This wasn't the case in Singapore, but once again, I was way luckier than I deserved to be. Since two friends on my programme moved to Singapore at the same time as I did, with another one next-door in Kuala Lumpur, I didn't have to start all over – further friendships just kind of snowballed from there, and I also ended up already knowing more people in Singapore and close by than I originally thought I did.
And while I was previously dreaming of a cosy little one-bedroom flat all to myself, living with my friend Ally might have changed my mind – I was so chuffed to have a brilliant and incredibly easy-going flatmate who I could talk to about anything and everything but also just quietly cohabit with if that's what we felt like.
Because, as I previously mentioned – no matter how much you love solitude, it's still important to know that someone next door is living their life in parallel to yours and always up for a Deliveroo & The Good Wife evening, including a heated discussion on the pros and cons of Will as Alicia's romantic interest in seasons 1 and 2 (or the occasional more serious chat if needed). Maybe that's something you need even more if you tend to happily get lost within your own head for extended periods of time. Who would have thought that I'm suddenly not that keen to live alone anymore!
So many expats in Singapore plan to live here for a short period of time only. Years later, quite a few of them are still on SGT. This doesn't surprise me at all. For me, however, it was time to move on and take advantage of the opportunity to start over once more.
It's nice to be back in autumnal weather (seasons? what's that?) for now, and while I wait for this upcoming phase to start, I'm a little nervous and quite excited. But I already miss Singapore and its lovely inhabitants dearly and will be packing a few extra kilograms of emotional baggage (of the good kind) when I next fill my suitcases.
Maybe I had been 64 kilograms of overweight luggage level sad to leave, after all.